Coming Halloween 2015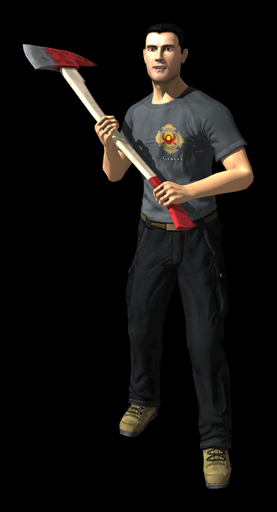 The 31st is currently live on Kickstarter! Please help us make this game a reality by contributing. There are plenty of interesting rewards for your support, including getting your name carved into a gravestone in the game.
The game is also on Steam Greenlight. Please give us your vote!
About the Game
The 31st is a Halloween-themed game about a fire fighter named Gus Graves from the small town of Timber Valley. Gus gets pulled into an experimental machine while battling a mysterious blaze at a local MGL Labs building. He awakens in a grassy field surrounded by broken lab equipment and his wrecked fire truck, and he soon learns that he's been transported to a strange world filled with wacky inhabitants and endless hordes of blood-thirsty monsters.
This is a humorous first-person shooter with lots of action. The game consists of six large levels containing wide-open outdoor spaces, spooky dungeon corridors, and everything in between. The game is not just about mindlessly killing all the creatures of the night. It also offers a sizable element of treasure hunting and exploration as you learn more about the mysteries left behind by people who visited before you.
The 31st is being independently developed by Terathon Software, makers of the C4 Engine. The game runs on PlayStation 4, Windows, and Mac.
Screenshots