Coming Soon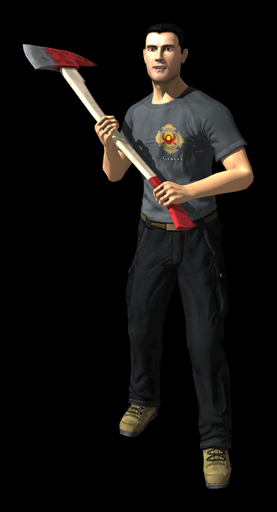 What is The 31st?
The 31st is a Halloween-themed game about a fire fighter named Gus Graves from the small town of Timber Valley. Gus gets pulled into an experimental machine while battling a mysterious blaze at a local MGL Labs building. He awakens in a grassy field surrounded by broken lab equipment and his wrecked fire truck, and he soon learns that he's been transported to a strange world filled with wacky inhabitants and endless hordes of blood-thirsty monsters.
This is a humorous first-person shooter with lots of action. There are wide-open spaces and multiple paths that can be taken to complete each level.
Who's making this game?
The 31st is being independently developed by Terathon Software, the makers of the C4 Engine.
When will it be released?
The 31st, Episode One will be released as early as possible in 2015, and additional episodes will follow.
What platforms is it being released for?
The game runs on PlayStation 4, Windows (XP or later), and Mac OS X (10.9 or later).
What are the hardware requirements?
The graphics card requirements for the game are as follows:
Nvidia GeForce 8600 minimum, GeForce 9600 or later recommended.
AMD Radeon HD 2600 minimum, Radeon HD 4600 or later recommended.
How much will it cost?
The final price of the game has not yet been determined, but you can pre-order the first episode today for only $10. By pre-ordering, not only are you locking in a low price, but you are supporting the development of the game. Every pre-order actually helps make the final product a better game.
How can I keep up to date on the progress of the game?
You can connect to us on Facebook, follow us on Twitter, and subscribe to our YouTube channel using the links here or at the top of the page. The 31st can also be found on IndieDB.com, and we have a page for the game's music on SoundCloud.
Also see the development blog for up-to-date information straight from the game's creators.